How We Prep Your Turf for Knoxville Weather
Artificial turf is a popular choice for property owners in Knoxville, as it requires little maintenance. The grass can also maintain its aesthetic appeal all year long. At Playrite, we supply high-quality artificial grass designed to withstand Knoxville's weather. Here's how we prep your grass for Knoxville's climate…
Drainage System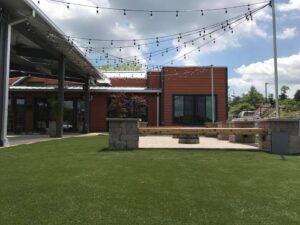 For any landscape application, a proper drainage system is necessary to allow water to drain off quickly and efficiently. This prevents the formation and buildup of puddles on the turf's surface.
Playrite artificial turf has a high-quality drainage system that keeps your turf dry even in the wettest conditions. Our synthetic turf consists of several layers, which work together to provide high-quality drainage. The top layer contains synthetic grass fibers that allow water to pass through them. Beneath the synthetic grass is a layer of permeable backing that allows water to drain from the turf. You can use our turf even after heavy rains without worrying about stepping into puddles.
Heat Resistance
Anyone who lives in Knoxville knows that we experience relatively high temperatures in the summer. Extreme heat can cause improperly manufactured turf or improperly installed turf to warp or roll. At Playrite, we utilize the industry's best turf, products that are engineered to withstand the area's hot weather. The turf's heat resistance comes from the fibers themselves. For landscaping, our turf contains synthetic polyethylene fibers that retain their shape and strength even when exposed to high temperatures due to their high heat resistance.
UV Protection
Quality UV protection helps your artificial grass stay healthy and vibrant for longer. It can shield your turf from the negative effects of sunlight, including discoloration, thinning, and overall deterioration.
Playrite turf products are designed with UV inhibitors to protect it from Knoxville's harsh sunlight. The inhibitors are added to the fibers during manufacturing to prevent them from breaking down and discoloring over time.
Quality Installation
High-quality installation is the key to enhancing our products' durability in Knoxville's climate. For 18 years, we have followed a tested and true ten-step process to make sure your turf installation is as close to perfect as possible. We want you to get the very most out of your artificial turf in Knoxville, year round. Our team will set up a meeting to discuss your space and goals before recommending the ideal product.
Playrite offers numerous artificial turf products, so you can rest assured that you will receive the ideal product for your space and needs. We'll then prepare your space for installation. Preparation involves excavating the turf's sub-base to provide adequate drainage and stability and installing plastic lumber around the space's perimeter to secure the area.
After comes the actual installation, which involves:
Adding geotextile to the sub-base to increase stability and separate the aggregate from dirt.
Installing aggregate on top of the geotextile to provide high-quality drainage during rainy seasons.
Laying out the UV-protected turf.
Connecting the various turf sections with tape and glue for a seamless look.
Trimming the turf for uniformity.
Laying infill to keep the synthetic fibers upright and prevent their expansion and contraction in hot weather.
Securing the turf to prevent tripping accidents.
Because we've been in the turf installation industry since 1993, our expertise in Knoxville is second to none. From Knoxville to Farrugut, Lenoir City, Tellico Village, Pigeon Forge, and more, our goal is to deliver turf that meets the highest standards of durability and longevity.
Playrite: Your Ideal Artificial Turf Company
Playrite is the most trusted artificial turf company in Knoxville. We supply and install synthetic turf that can withstand Knoxville's changing weather conditions. Our installers handle a wide range of projects, including indoor and outdoor turf installations. Contact us for the highest quality artificial turf and professional artificial turf installation.