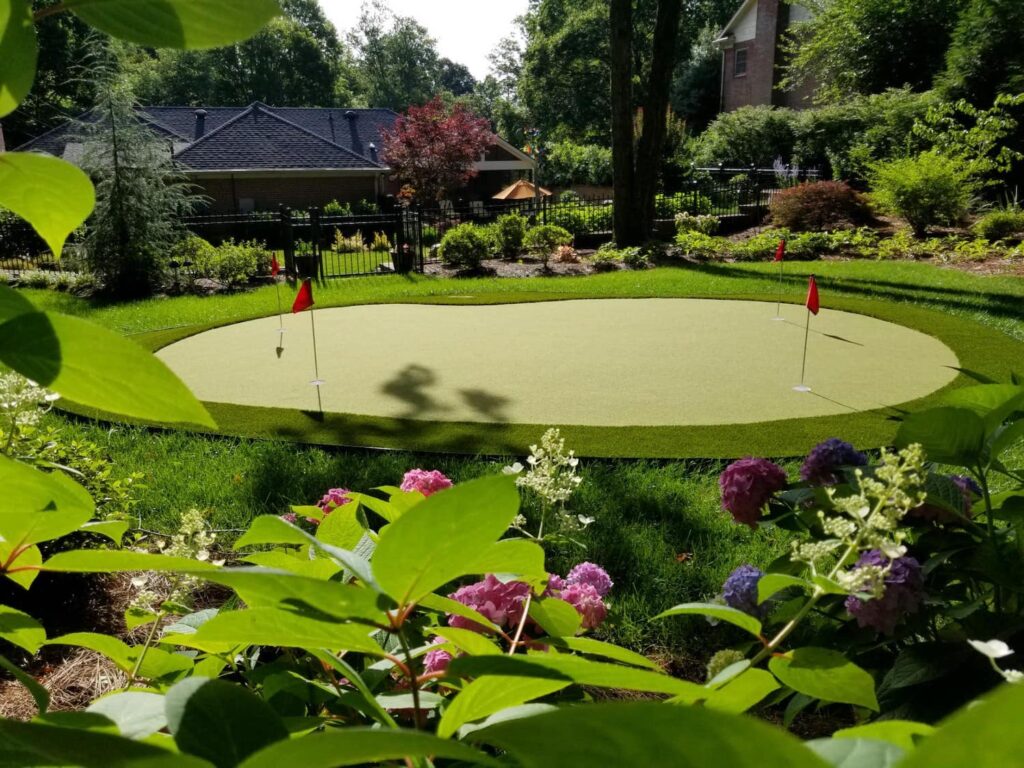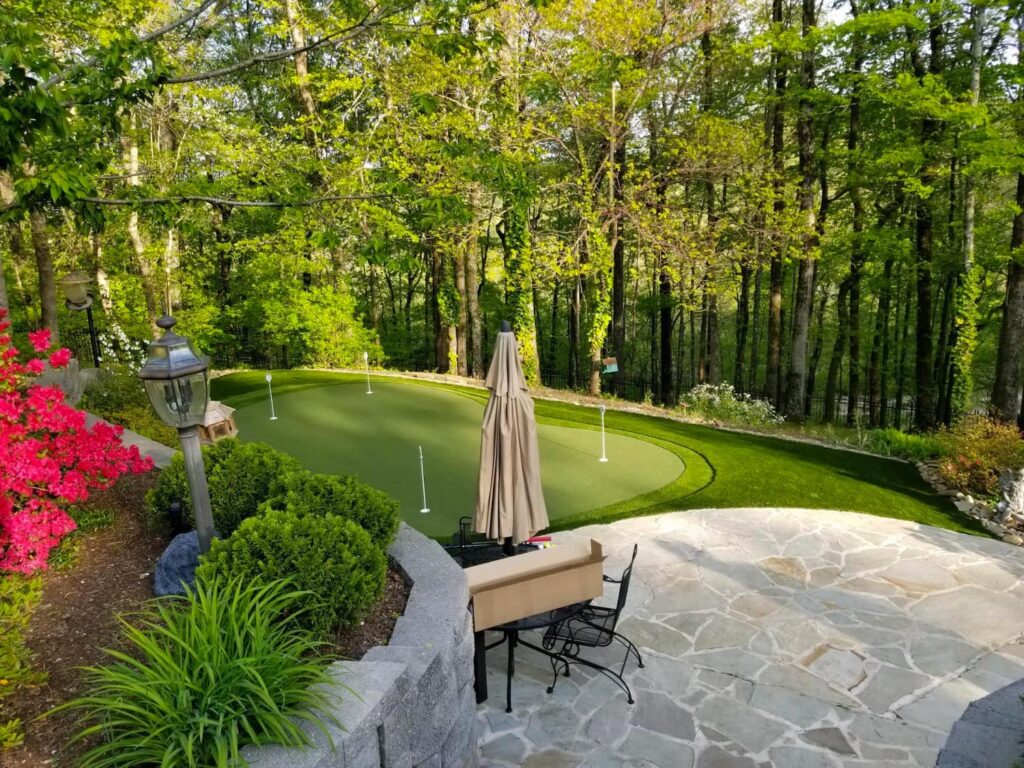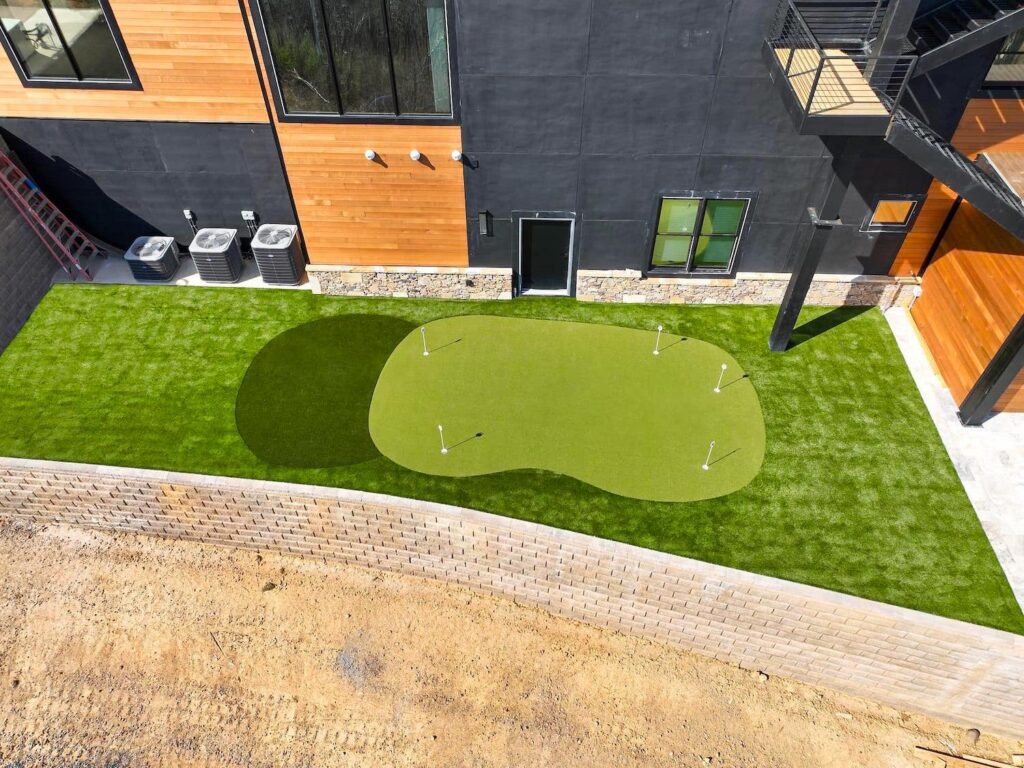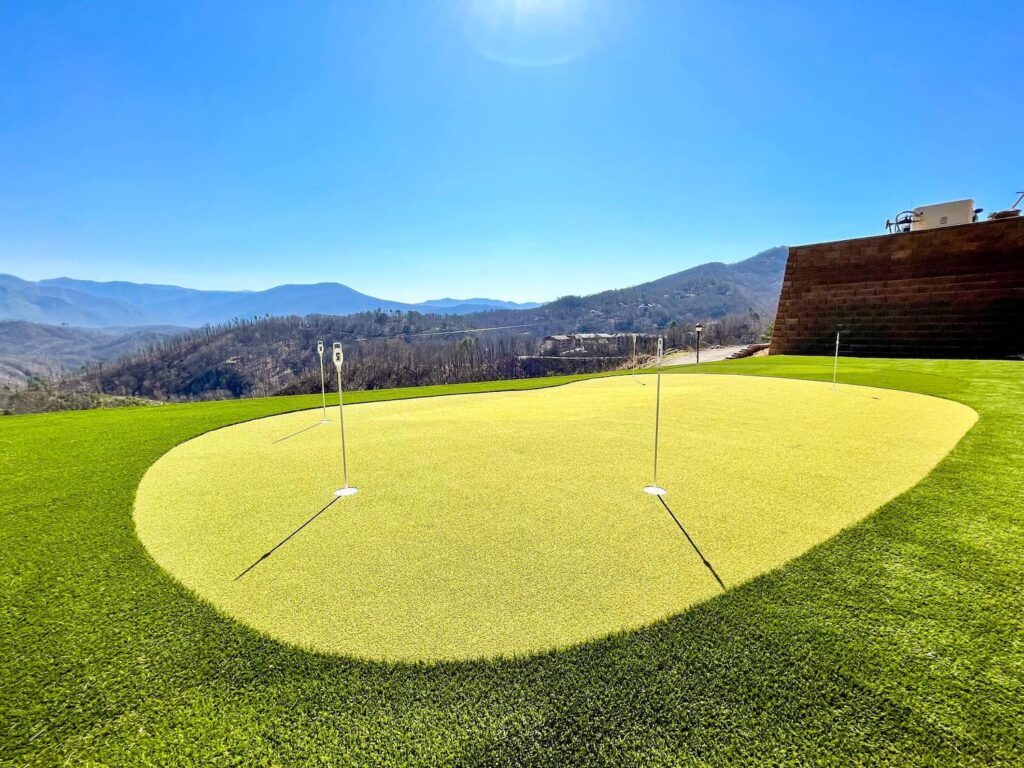 Artificial Putting Green Turf Knoxville TN
Playrite is Knoxville's leader for the design and install of your artificial turf putting green. We offer the right synthetic putting green surface for every game and golfer. Manufactured to perform perfectly every time, our golf and putting green turf is used by professionals, amateurs, and golf instructors worldwide. We recognize that the most important aspect of the game is putting. That's why our putting green turf is designed to produce results-oriented practice and reinforce the underlying mechanics of good putting. A putting green in your yard or facility offers the ability to practice your short game anytime.
Our putting green turf is extremely durable and has a high performance "true roll" characteristic that makes it a favorite among low handicappers as well as touring and teaching professionals. We offer texturized nylon and polypropylene sand-filled putting greens, as well as a comprehensive line of synthetic target greens, range turfs, and tee line surfaces.
The most common installations are backyard putting greens and indoor putting greens, but we can custom design a beautiful golf practice space wherever you desire. Our team of expert designers and installers will work with you to help create the putting green of your dreams. Once complete, you will get to enjoy hours of fun while honing your golf short game skills!
Improve Your Short Game With an Artificial Turf Putting Green
Golfers know that consistent practice is the best way to improve their short game and take strokes off their golf score. Whether you install a backyard putting green or indoor putting green, you can practice anytime in the privacy of your own home. Everyone knows that improving your score by just a couple strokes can make a huge difference. That's why investing in an at-home artificial putting green in Knoxville is an ideal solution as well as as sound investment.
Have Fun Year Round With an Artificial Putting Green
A residential golf green offers a great space to spend time alone or with friends and family. Whether practicing or competing, your artificial turf putting green will quickly become one of your favorite places to relax and have fun. The convenience of a backyard putting green allows you to take a break from a busy day on your own schedule. Of course, our putting greens are not limited to the backyard. An artificial putting green can be designed and installed indoors as well.
"Playrite delivers a putting surface that resembles a high quality grass green. The difference is that their surface remains the same the entire year, irrespective of weather."
David Leadbetter, World-Renowned Golf Teaching Professional
Backyard Artificial Putting Green in Knoxville
The best way to improve your golf game is to work on your short game, and what better way to do this than installing your very own backyard putting green. Backyard putting greens are increasing in popularity, and it is easy to see why. Synthetic turf putting greens provide golfers with a convenient way to practice and a fun addition to any home that friends and neighbors will love.
Playrite makes your dream of having a backyard putting green in Knoxville attainable. Our expert design and install team will give you a beautiful, durable, low maintenance artificial putting green that you can enjoy year round. What's more, your backyard putting green will increase the value of your home. This means that your artificial turf purchase might even pay for itself in the future when it comes time to sell your home.
Indoor Artificial Grass Putting Green
When the weather isn't cooperating or you don't have the time for a round of golf, practicing golf indoors is a great way to hone your short game skills. In addition to creating traditional outdoor putting greens, Playrite designs and installs indoor artificial grass putting greens. Our artificial turf installers can also enhance aesthetics and impact by installing sand bunkers, chipping stations, and fringe chosen from our array of indigenous and native grass turfs.
Playrite has been designing and installing indoor artificial turf putting greens in Knoxville for over 30 years. We offer the finest selection of synthetic grass and experts who are just as passionate about the game as you are. We will work with you to create the perfect indoor space. In the end, your professionally installed artificial putting green will provide years of enjoyment, regardless of the weather, while increasing the value of your property.
Why Choose Playrite Artificial Grass Putting Greens in Knoxville?
Playrite has been the leader in artificial turf in Knoxville for over 30 years. Our artificial turf putting greens are durable, long-lasting, low maintenance, and provide the natural roll that golfers demand. Our putting greens also have excellent drainage, so you won't ever have to worry about rainy days, pooling, or mud.
Our team will meet with you to evaluate your space and help design your artificial turf putting green. We will help you decide on angles, grades, slants, hole placement, and more. We can make your golf putting green as challenging as you want. Whether in the backyard or indoor, we will help create a beautiful area that will be ideal for practicing golf and will improve the value of your home.
Best of all, our professionally designed and installed golf greens in Knoxville are built to last. Our artificial grass for gold is specially designed to endure all types of weather, from sun to rain to wind and snow. Whatever your vision, whatever your dream, contact us today and we'll help design the perfect putting green for you.
Artificial Grass in Knoxville, TN and East Tennessee
Artificial Grass in Alcoa, TN • Artificial Grass in Asheville, NC • Artificial Grass in Athens, TN • Artificial Grass in Bristol, TN • Artificial Grass in Chattanooga, TN • Artificial Grass in Cleveland, TN • Artificial Grass in Clinton, TN • Artificial Grass in Cookeville, TN • Artificial Grass in Crossville, TN • Artificial Grass in Dayton, TN • Artificial Grass in Farragut, TN • Artificial Grass in Gatlinburg, TN • Artificial Grass in Greeneville, TN • Artificial Grass in Jefferson City, TN • Artificial Grass in Johnson City, TN • Artificial Grass in Kingsport, TN • Artificial Grass in Lenoir City, TN • Artificial Grass in Maryville, TN • Artificial Grass in Morristown, TN • Artificial Grass in Oak Ridge, TN • Artificial Grass in Pigeon Forge, TN • Artificial Grass in Powell, TN • Artificial Grass in Sevierville, TN