Synthetic Turf Applications
With Playrite, the possibilities are only limited by your imagination. Whatever your vision for your space, we have the ability to turn that vision into reality with our turf applications. For 18 years, we have been East Tennessee's top provider of artificial grass, specializing in: artificial putting green turf and tee lines; artificial grass landscaping; artificial grass for dogs; artificial grass for playgrounds; artificial grass for sports; and outdoor field turf.
Regardless of your desires, our expert team of installers will help create a space that exceeds your expectations. With Playrite, you can be confident that your synthetic turf project will be accomplished using the highest quality materials and the latest turf installation techniques.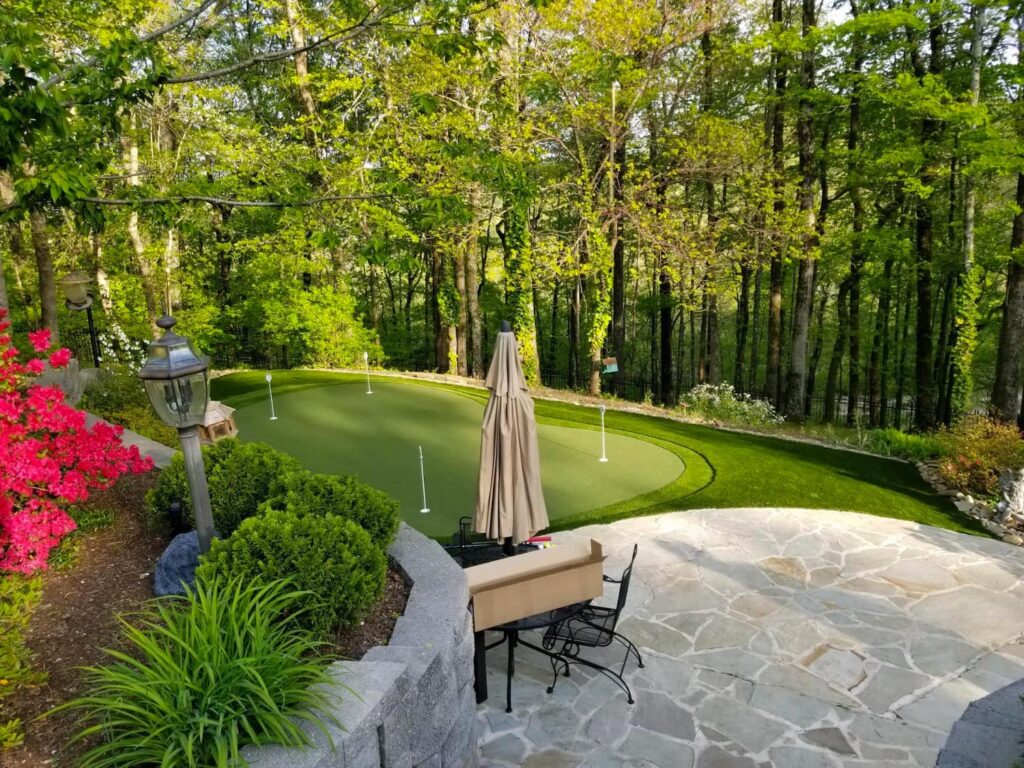 Why Choose Synthetic Turf in Knoxville?
Synthetic turf, also known as artificial grass or artificial turf, is a popular alternative to natural grass for a wide variety of applications. It is made from premium synthetic fibers that are designed to mimic the look and feel of natural grass, but does not require watering, maintenance, or mowing. In addition, synthetic turf does not contain harmful chemicals, pesticides, or fertizliers, making it a sustainable, environmentally safe surface for children and pets.
Playrite provides synthetic turf in Knoxville for residential and commercial use, for both small and large projects. From artificial grass lawns and landscaping, to artificial turf putting greens and golf hitting mats, to dog turf and pet turf, to backyard and municipal artificial turf playgrounds, to indoor turf and outdoor field turf, we are experts at converting your dream space into reality!
Residential synthetic turf in Knoxville is available for small and large projects, from artificial turf putting greens, to artificial turf for dogs and pets, to artificial turf playgrounds, to comprehensive artificial grass lawns and landscaping. Save time and money with artificial grass from Playrite!
Turn Your Artificial Turf Grass Dream Space Into Reality
Artificial Grass in Knoxville, TN and East Tennessee
Artificial Grass in Alcoa, TN • Artificial Grass in Asheville, NC • Artificial Grass in Athens, TN • Artificial Grass in Bristol, TN • Artificial Grass in Chattanooga, TN • Artificial Grass in Cleveland, TN • Artificial Grass in Clinton, TN • Artificial Grass in Cookeville, TN • Artificial Grass in Crossville, TN • Artificial Grass in Dayton, TN • Artificial Grass in Farragut, TN • Artificial Grass in Gatlinburg, TN • Artificial Grass in Greeneville, TN • Artificial Grass in Jefferson City, TN • Artificial Grass in Johnson City, TN • Artificial Grass in Kingsport, TN • Artificial Grass in Lenoir City, TN • Artificial Grass in Maryville, TN • Artificial Grass in Morristown, TN • Artificial Grass in Oak Ridge, TN • Artificial Grass in Pigeon Forge, TN • Artificial Grass in Powell, TN • Artificial Grass in Sevierville, TN