Synthetic Turf Applications
With Playrite's commitment to innovation and quality, we bring your dreams to life through our expertise in synthetic turf applications. Our seasoned team has been elevating landscapes across East Tennessee for 18 years, specializing in a diverse range of solutions from synthetic putting greens to canine-friendly spaces, sports arenas, and expansive outdoor field installations. Count on us to not only meet but exceed your aspirations as we craft a space that reflects your vision and values. With Playrite, you're choosing a partner dedicated to excellence, ensuring your synthetic turf project is executed flawlessly with the utmost care and precision.
Regardless of your desires, our expert team of installers will help create a space that exceeds your expectations. With Playrite, you can be confident that your synthetic turf project will be accomplished using the highest quality materials and the latest turf installation techniques.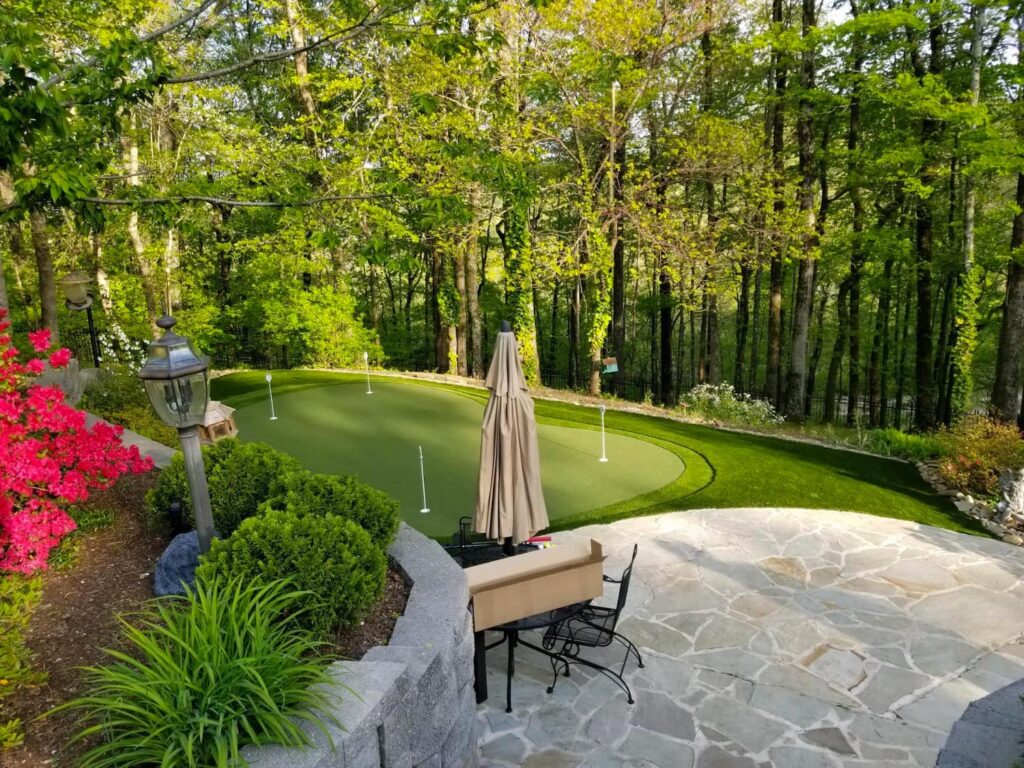 Why Choose Synthetic Turf in Knoxville?
Synthetic turf, commonly referred to as artificial grass or artificial turf, stands as a highly sought-after alternative to natural grass across an array of applications. Crafted from top-tier synthetic fibers meticulously designed to replicate the appearance and texture of genuine grass, synthetic turf offers the visual look and feel of natural grass while eliminating the need for water, ongoing maintenance, or routine mowing. What further sets synthetic turf apart is its environmentally conscious composition—void of harmful chemicals, pesticides, or fertilizers—rendering it a sustainable and secure surface suitable for both children and pets.
At Playrite, we proudly extend our synthetic turf expertise to the community of Knoxville, offering an extensive range of applications catering to both residential and commercial needs, regardless of project size. From the seamless integration of artificial grass lawns and intricate landscaping ventures, to the meticulous crafting of artificial turf putting greens and precision-driven golf hitting mats, to the establishment of pet-friendly turf for your beloved canine
Residential synthetic turf in Knoxville is available for small and large projects, from artificial turf putting greens, to artificial turf for dogs and pets, to artificial turf playgrounds, to comprehensive artificial grass lawns and landscaping. Save time and money with artificial grass from Playrite!
Turn Your Artificial Turf Grass Dream Space Into Reality
Artificial Grass in Knoxville, TN and East Tennessee
Artificial Grass in Alcoa, TN • Artificial Grass in Asheville, NC • Artificial Grass in Athens, TN • Artificial Grass in Bristol, TN • Artificial Grass in Chattanooga, TN • Artificial Grass in Cleveland, TN • Artificial Grass in Clinton, TN • Artificial Grass in Cookeville, TN • Artificial Grass in Crossville, TN • Artificial Grass in Dayton, TN • Artificial Grass in Farragut, TN • Artificial Grass in Gatlinburg, TN • Artificial Grass in Greeneville, TN • Artificial Grass in Jefferson City, TN • Artificial Grass in Johnson City, TN • Artificial Grass in Kingsport, TN • Artificial Grass in Lenoir City, TN • Artificial Grass in Maryville, TN • Artificial Grass in Morristown, TN • Artificial Grass in Oak Ridge, TN • Artificial Grass in Pigeon Forge, TN • Artificial Grass in Powell, TN • Artificial Grass in Sevierville, TN