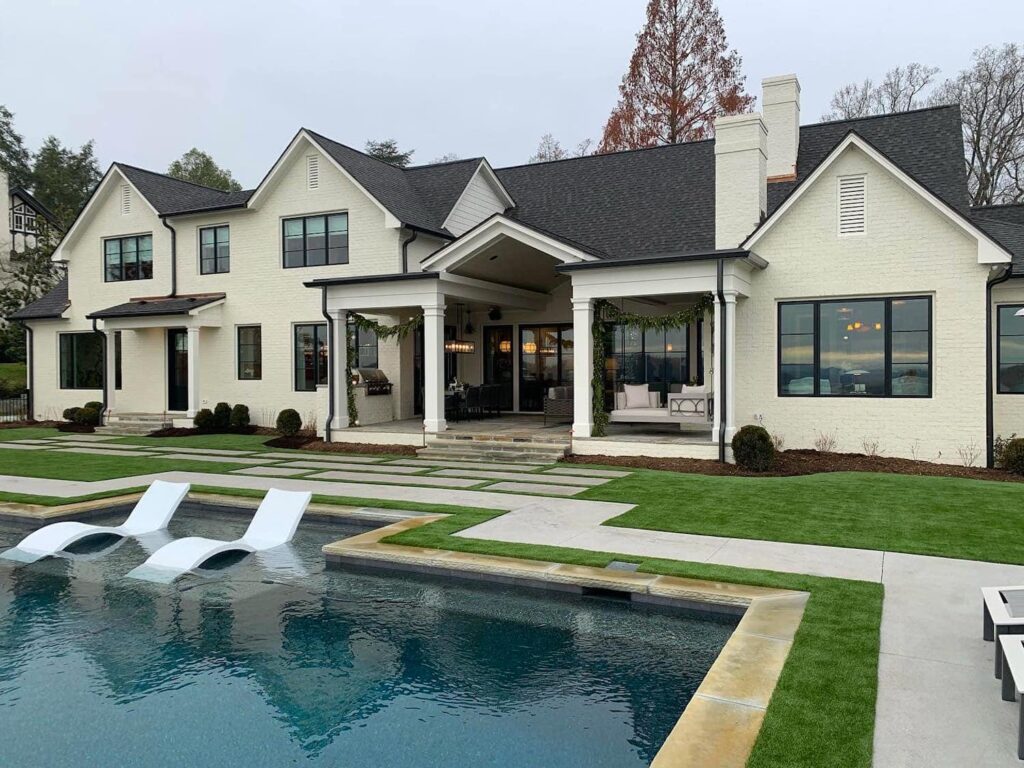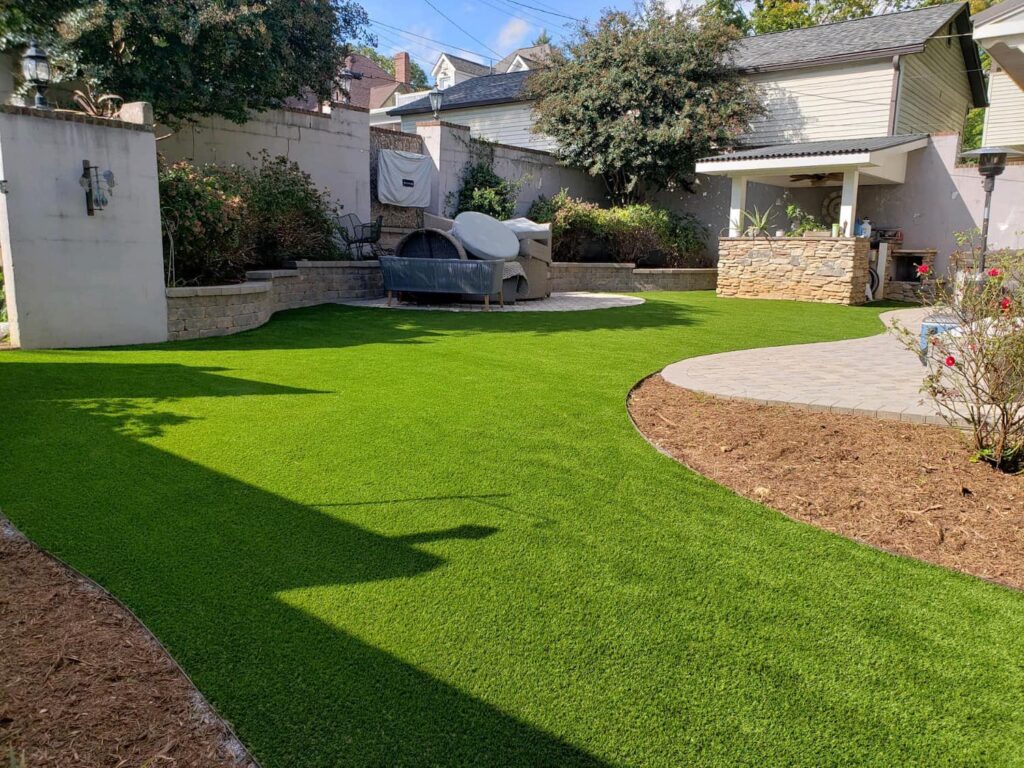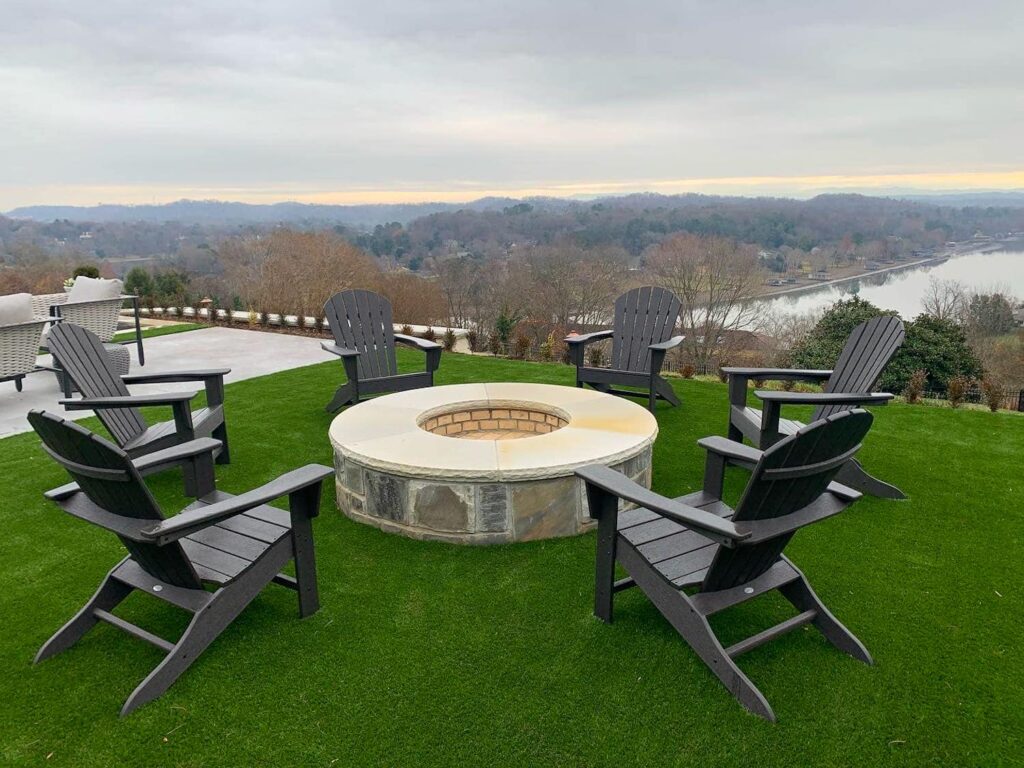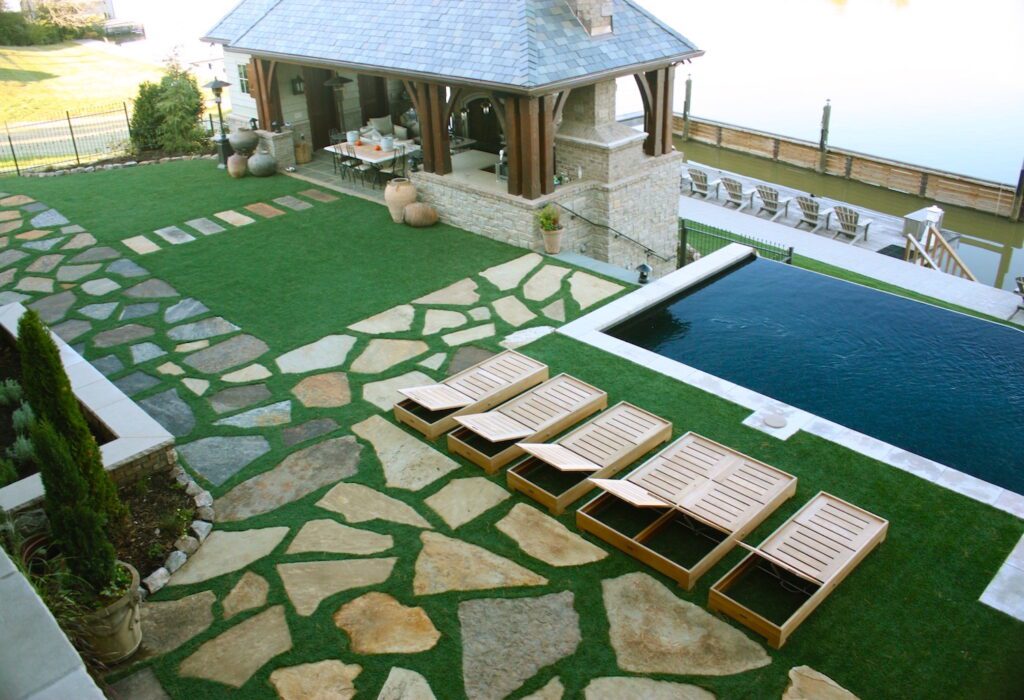 Synthetic Grass Maryville, TN
Are you ready to elevate your lifestyle at home or work? A brand new outdoor area, putting green, or entertainment space made from synthetic grass in Farragut, TN can result in new levels of enjoyment for family, friends, and co-workers. You can count on Playrite for the very best synthetic grass in Knoxville and the surrounding areas, including Lenoir City, Maryville, Pigeon Forge, Tellico Village, and more!
Our premium synthetic grass products closely resemble natural grass, both in look and feel, but will give you years of enjoyment with easy maintenance. Just one call to Knoxville's top artificial grass company will get you started on the path to enjoying a beautiful, green lawn or landscape year round.
20 Years Experience with Artificial Turf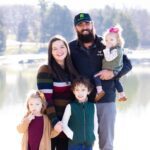 Since 1993, Playrite has been Knoxville and East Tennessee's top artificial turf company. From backyard putting greens, to artificial grass landscaping, to pet turf areas, to artificial turf playgrounds, to full-scale synthetic field turf for sports, our professional, highly trained staff is current on all the latest synthetic turf products and artificial grass installation techniques.
We look forward to serving you with our "can do" attitude and passion for creating fun, functional, and beautiful spaces that families and friends can enjoy year round. Contact us today for a free quote. We look forward to serving you!
"For 20 years, Playrite has been the leading provider and installer of synthetic grass in Maryville, TN and the surrounding area, including Knox, Blount, Loudon and Sevier Counties. We carry many different types of artificial turf and will recommend the best solution depending on your specific need. We look forward to serving you!"
Synthetic Putting Green Turf
At Playrite, putting green turf at the home or office is one of our most popular requests. Homeowners love installing turf putting greens in their backyards, knowing that this is the same type of synthetic turf that is trusted by golf professionals and golf instructors worldwide. You can expect high performance, "true roll" characteristics, and outstanding durability, so that you can enjoy your outdoor putting green year round. We also offer a comprehensive line of artificial turf solutions for golf ranges and tee lines.
Artificial Grass Landscaping
Are you tired of taking care of the lawn on weekends and want an easier, low maintenance solution? Homeowners and business owners are installing artificial turf in Knoxville as a sensible, eco-friendly, durable alternative to real grass. Synthetic turf improves the beauty of your home and lets you enjoy the weekends instead of working in the yard. If you're interested in artificial grass landscaping with no mowing, no irrigation, low ongoing maintenance, and beautiful green grass year round, then contact Playrite today!
Artificial Turf for Dogs & Pets
Playrite provides artificial turf in Knoxville for dog and pet spaces, dog runs, dog parks, and more. Our synthetic turf eliminates wear and tear on your lawn and maximizes the comfort and safety of your pets. Best of all, artificial grass for dogs provides outstanding durability and advanced draining capability that keeps your lawn urine and mud-free. Additionally, our artificial turf for pets absorbs odors and keeps the surface free of bugs, tick, and fleas. It's no mystery why pet turf in Knoxville is in such high demand!
Synthetic Grass for Playgrounds
Now is the time to consider transforming your backyard or commercial space by installing artificial grass for playgrounds in Knoxville. Playrite has completed artificial turf playground installation in homes, businesses, daycares, schools, municipal parks and more. Our technologically advanced surfaces have an added layer of cushioning to provide an extremely safe environment for children. What's more, due to the fast draining properties, synthetic turf dries quickly and eliminates potentially dangerous puddles. Contact us today for your fake turf playground quote!
Field Turf for Indoor & Outdoor Sports
Playrite is the preferred provider of artificial field turf for outdoor sports in Knoxville and East Tennessee. Our certified installers have over 18 years of experience producing beautiful, functional artificial turf sports fields for gyms, high schools, universities, municipal parks, and more. Our clients choose synthetic turf in Knoxville over traditional grass for sport surfaces due to the high durability, exceptional drainage, and low maintenance. Plus, our artificial grass sports fields are designed to withstand the extreme, seasonal weather conditions often associated with Knoxville and East Tennessee.
Why Choose Synthetic Grass in Maryville, TN
Artificial Grass in Knoxville, TN and East Tennessee
Artificial Grass in Alcoa, TN • Artificial Grass in Asheville, NC • Artificial Grass in Athens, TN • Artificial Grass in Bristol, TN • Artificial Grass in Chattanooga, TN • Artificial Grass in Cleveland, TN • Artificial Grass in Clinton, TN • Artificial Grass in Cookeville, TN • Artificial Grass in Crossville, TN • Artificial Grass in Dayton, TN • Artificial Grass in Farragut, TN • Artificial Grass in Gatlinburg, TN • Artificial Grass in Greeneville, TN • Artificial Grass in Jefferson City, TN • Artificial Grass in Johnson City, TN • Artificial Grass in Kingsport, TN • Artificial Grass in Lenoir City, TN • Artificial Grass in Maryville, TN • Artificial Grass in Morristown, TN • Artificial Grass in Oak Ridge, TN • Artificial Grass in Pigeon Forge, TN • Artificial Grass in Powell, TN • Artificial Grass in Sevierville, TN