How Playrite Can Upgrade Your Lawn to Artificial Turf
Artificial turf can upgrade any lawn environment. At Playrite, we offer our customers the highest quality turf and the best customer service. Here are just a few reasons that artificial turf is an excellent upgrade for your lawn or landscape:
Quick Installation
Our installation process time will vary, depending on where we are installing the turf. After our initial consultation, we will provide you with an estimated completion time for your installation. With the exception of larger jobs, like artificial turf playgrounds, most artificial turf installations take anywhere from a few days to a week. This quick installation timeframe can let you enjoy the area sooner.
Long Lasting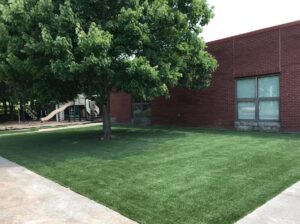 Artificial turf drastically changes the length of time your lawn will last. Because regular grass lawns require a high level of maintenance, they may not last long. The area in which you reside will also play a factor. While the weather may reduce the durability of a regular grass lawn, artificial turf is incredibly more durable. Our turf also comes with a warranty, bringing you further peace of mind. With artificial turf, you can upgrade your lawn by making it last longer and look better in the process.
Lower Maintenance
Regular lawns require water, mowing, clipping, and other maintenance. This maintenance can be time-consuming and difficult for some to keep up with. With artificial turf, you can significantly cut down on maintenance time. Our turf can require a bit of cleaning when necessary, but it's easy to do. To clean our turf, all you will usually need is to rinse with water from a hose or even clean with a leaf blower. Cleaning with soap is likely only necessary when there is a spill or stain. The lower the maintenance, the more time you will have to enjoy your artificial lawn.
Cut Costs
When you choose article turf, you can cut your overall home maintenance costs. Artificial turf is meant to be maintenance-free and therefore does not require the level of costs associated with a natural grass lawn. Your primary expense for your artificial lawn is the cost of installation. Because you'll no longer need to water the lawn, high water bills will be eliminated. By cutting costs, you can use the savings in other ways to upgrade your lawn or home.
Variety of Uses
Our turf can be used in a variety of different areas. Here are some of the areas that can be upgraded by our turf:
Large Landscapes
Smaller Landscapes
These are just a few of the popular areas where you may want to install turf. If the area you are considering is not listed, you can speak with us to find out if our turf can work in your desired space.
Playrite and Artificial Turf
At Playrite, we offer high-quality artificial turf with outstanding service. Our turf can upgrade any lawn and increase your level of free time. You might be surprised by the authentic look and feel of our turf. Upgrade your lawn, experience less maintenance, and enjoy year round! To learn more about our installation services, artificial turf, and more, contact us today.