4 Reasons You'll Love Our Artificial Turf
Playrite installs synthetic grass in Knoxville, Tennessee, sparing our clients from having to deal with time consuming and costly lawn upkeep. Artificial turf is a desirable, economical, and drought-resistant synthetic surface that closely matches the look and feel of real grass. Below are four reasons that you'll love your turf from Playrite:
Low Maintenance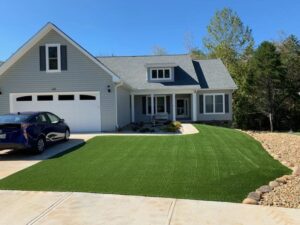 Playrite artificial turf is a great option for busy homeowners and businesses because it requires far less maintenance than a typical yard. Because it doesn't need to be fertilized, watered, or mowed like regular grass, artificial grass will save you both time and money.
Even in high-traffic areas, our durable and long-lasting synthetic grass can maintain its high-quality look and feel. This is due to the quality of the synthetic fibers that are used to make our artificial grass products.
Curb Appeal
Artificial turf is a weather-proof and climate-proof option that stays green year round, with no irrigation required. You can relax knowing that your yard will look wonderful regardless of how much sunshine, rain, or snow. Take a look at our gallery to see the beauty of our turf installations for landscaping, dog spaces, playgrounds, golf putting greens, and more.
Cost-Effective
We specialize in durable and long-lasting artificial grass, giving you more bang for your buck. Artificial turf from Playrite can be less expensive to take care of than actual grass. After a one-time purchase and installation, fake turf requires no fertilizer, pesticides, or water, greatly reducing your maintenance costs. Additionally, cleaning is a snap. A simple hose or leaf blower is used to complete any cleanup easily and restore your synthetic surface to pristine condition.
For those concerned with the initial expense, it's important to consider the long-term time and money savings. With artificial grass, you will eliminate the costs of lawn mowers, rakes, hoes, and other lawn maintenance equipment or personnel. Most installations eventually pay for themselves through the savings you experience over time.
Pet-Friendly
Pets can play safely on our turf due to the absence of fertilizers, pesticides, and cleaning agents that are often used to keep real grass aesthetically pleasing. Our pet turf is also designed to resist the wear and tear of paws and claws and can reduce the risk of mud and puddles in your pet space. Our turf is constructed with synthetic fibers that are soft and springy, providing your pets with a cozy surface to lounge on.
What's more, turf can provide grass allergy relief. This is because artificial grass does not release any pollen, reducing grass allergy symptoms in you and your pets.
Check Out Playrite Artificial Turf Today
Our professionally trained, certified turf installers at Playrite will help you design the space of your dreams and ensure that you get the most out of your investment. With our high quality products, we will create comfortable, beautiful, low-maintenance, and long-lasting spaces.
For both home and commercial use, we offer indoor and outdoor artificial turf for a wide variety of spaces. Purchase artificial grass in Knoxville, Tennessee today from Playrite for best quality products and services. Reach out today or visit our website to schedule a personal consultation.